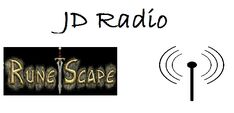 JD Radio is the Number 1 Runescape Radio Station. Just tune into clan chat wherever you are and in any world and listen to our shows. We don't have a home world and we broadcast live from many locations. My username is jackrox2230 and that is also the name of the radio station. Our QFC for the Runescape forum is 201-202-944-61184053.
When we talk cash we talk Runescape GP not real money.
This is a list of our current staff.
Founder - Jackrox2230
CEO -
Host - Jackrox2230
Jobs Vacant
Currently the CEO Position is vacant. If you are interested please post the application form below onto our Runescape forum thread. At the moment the CEO won't get paid but as soon as we start making money the will be the 2nd highest paid in the company.
Staff Application Form
Runescape Username: ironcrawl974
Job Title Your Applying For: CEO
Member or F2P: Member
Advertising With Us
Edit
A big part for us to make money and pay our staff is Advertising. We are an Organization that doesn't make a lot of profit. All we ask is for a little bit of money at the end of each week to pay our staff and to Buy Items and expand our company. If you are a Runescape Business or Service or Just someone who regularly sells large amounts of items then you've come to the right place. We offer some advertising packages listed below.
Forum Package - You get an advertisement on our classifieds post for 3 Days. You can chose longer though just say so in your application form. It is very affordable at only 70gp.
Basic Package - You get ana dvertisment on our classifieds post for 5 Days and also get a brief mention on one of our Radio Show's once. Reasonable price of only 200gp
Bronze Package - You Get an advertisment on our classifieds post for 7Days and you get mentioned on one of our radio show not just one put two epsisodes of a show. Sarting from only 700gp
Gold Package - You get an advertisment on our classifieds post for 14 Days and You get mentioned 5 Times on our shows. Starting from only 1k
Premuim Subscription - You get an advertisment on our classifieds for as long as you subscribe and you get mentioned on all of our shows while you are a subscriber and you can opt out anytime. From 2000gp a week.