The Economic Climate of May 2009 includes price changes of a specific group that might be able to affect a business, whether in sales or in buying raw materials.
Price Drops
Edit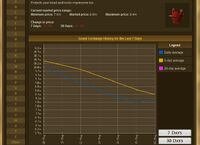 May has so far seen the dramatic decrease in price of both the dragon full helm and chainbody. In the space of 7 days, the helmet dropped in value by 2,000,000 coins while the chainbody lost a further 828,800 coins. Both items continue this descent as of May 17th. By now it is most likely to late for anyone to hope to merchant either of these items, and if in desperate need of the money you should sell these items before they decrease any further.
Other dragon items experiencing problems include the dragon longsword which has dropped 27,800 coins in the space of 30 days as of May 17th. These are not recommended as good items to merchant at the time due to their continuing drop rate.
Throughout the first quarter of 2009, certain charter ship items such as bananas and eye patches had increased in price dramatically, going from less than 10 coins to up to 40 coins and more. However, as May arrived the items began to decrease again, with bananas going from 48 to 40 coins during the space of 7 days. People hoping to merchant these items should definitely sell as of May 17th as it would appear they are quickly losing their wealth. The eye patch has also gone from 51 coins to 16, and it is likely it will return to its original price of 3 coins or lower.
May has also seen the infinity set parts drop at a surprising rate, however so far this only includes the hat and top. In the past 30 days both have decreased, with the hat having lost 315,800 coins in terms of value and the top has lost 154,600 coins.